LOVERA PREMIER - WHERE NATURE JOINS WITH ARCHITECTURE
Lovera Premier Khang Dien Binh Chanh is the Project of townhouse villas and shophouss. Located in the area of Khang Dien Binh Chanh Phong Phu 4 Residential Area. Nearly 90 hectares of area which is planned in sync and completed construction to bring fresh green living space for residents here. Come to Lovera Premier for an enjoyable experience!
Brand positioning
Website strategies
User interface and effects development (front-end development)
Website Responsive Design
NEW STANDARD OF LIVING - ENHANCING THE FULL VALUE OF LIFE
Lovera Premier is the 4th sub-district, a special version of Lovera Park, located in the existing Khang Phuc Residential Area, which is planned in sync, full of public utilities and social infrastructure, green living environment, adjacent to 2 central parks of nearly 5 hectares.
Luxurious design, impressive lines, and perfect view.
Together with Lovera Park, Lovera Premier will create a modern, model residential area in the south of Ho Chi Minh City.
APPROACHING
Accompanying Khang Dien in all website design projects, especially real estate websites, Canh Cam did not spend too much time learning about the spirit as well as the familiarity and interest between the two teams has helped the project deploy much smoother and more convenient.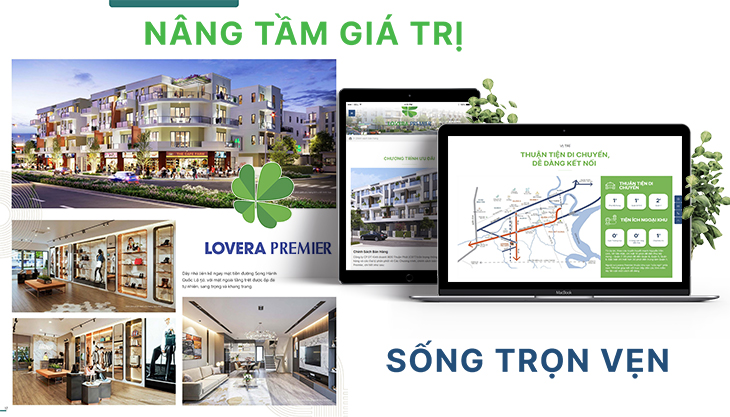 With Lovera Premier project-oriented to become a modern residential area not only modern design, harmonious, take advantage of the sun, wind and natural light, help the house always airy. Each house has a front - backyard, adjacent and symmetrical connection, with a system of green fences in front of the house, creating a feeling of green space is extended.
Therefore, Khang Dien wants the web to work intuitively and express the necessary information of the project, images and colors must exude the natural look but still bring modernity and symbols of Lovera.
WEBSITE DESIGN IMPLEMENTATION
Lovera Premier serves mid-range or higher customers. Khang Dien cherishes building an ecosystem of a civilized community.
Khang Dien uses the image of "Four-leaf clover" - the symbol of a happy "life", Lovera Park - a peaceful land that gives residents moments to enjoy life properly - where tangible value (location, design, utility, living space) will bring invisible value (love, belief, happiness, ...) to the sublimation
The four-leaf clover is the main image and pattern used throughout the website design cleverly.
Green is always the main tone that follows the logo guideline, mixed with dark blue to create harmony, pleasantness and bring a natural bias to the website.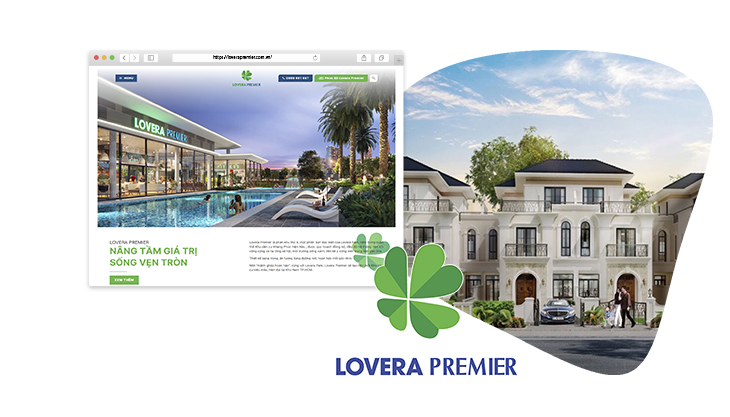 In this project, Canh Cam chose the Parallax style of web design, creates a strong, reliable feeling. The distribution of images and text provide a high view to help customers have a clearer view of the project but still skillfully provide enough information necessary for potential customers who want to become residents in Lovera, becoming modern citizens in the new era.
INTERFACE
Canh Cam is not only standardized the interface on desktop, PC, laptop, etc. but also in mobile phones, tablets, and so on, we show aesthetic optimization and ensure responsiveness on all devices in the best way. This helps users have the most complete experience when using this website on any device whenever they want.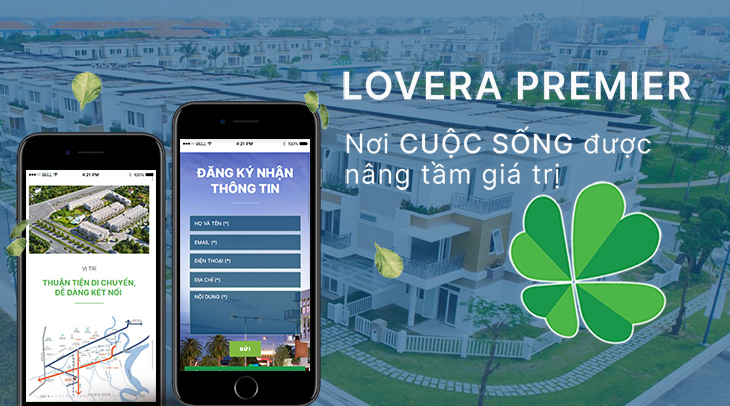 RESULTS
Lovera Premier website has been handed over with a modern and outstanding interface that makes new customers learn about the website also be amazed and attracted to the project.
The website has fully met the expectations of the company, the website expresses the modernity, newness, prestige, and class of Khang Dien in the competitive real estate market and increasingly affirms its position in the field of investment and distribution of quality and high-end real estate products.
Canh Cam - Website Design Agency in HCMC, we are proud to be able to offer different designs to different brands, as well as to bring a great experience to our customers.
Other projects
PROJECT SHARING
Share with us basic requirements to get reasonable price quotation