Lotus Gourmet
Lotus Gourmet specializes in providing rice products and fast-food products. We are committed to bringing customers the best quality products with great taste and experience at an affordable price.
Brand positioning
Website strategy
User interface and effects development (front-end development)
Responsive Design (Website Responsive Design)
Who is Lotus Gourmet?
Lotus Gourmet Corp. is a member of a family-owned company of the Rice and Fast Moving Consumer Goods (FMCG) Corp. We go further by launching the "Lotus Gourmet" brand to the world market. Produced with care, passion and enthusiasm in the Mekong Delta and processed with state-of-the-art lines and state-of-the-art technology, Lotus Gourmet represents the best quality products in Vietnam.
What does Lotus Gourmet need on a website?
Lotus Gourmet aims to create a brand that provides rice products and fast-moving consumer goods with high quality and healthy products, for the high-end customer segment.
Therefore, Lotus wishes through website design to bring awareness to its customers about those things. And aim to "educate" potential customers about the value of products brought lotus.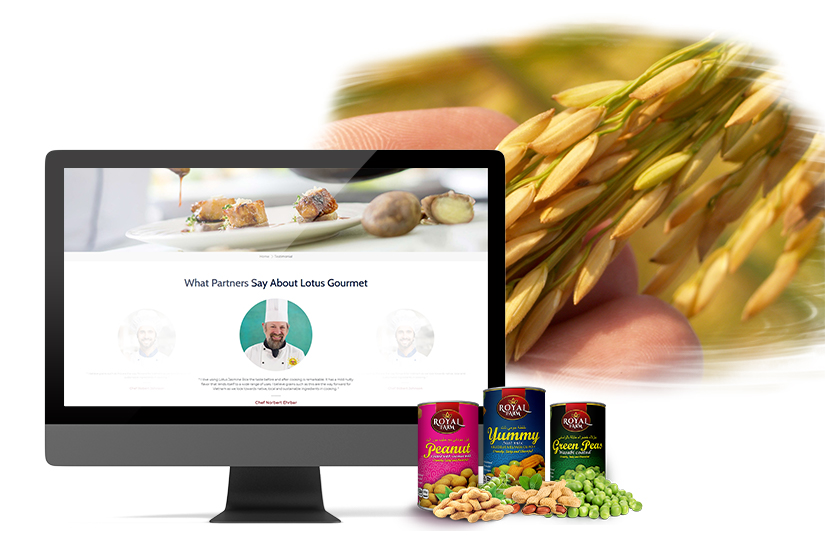 In addition, the requirements of website making must also show the freshness, youthfulness, modernity of international level with products distributed in more than 20 countries around the world. It is a prominent feature, creating trust in its brand that Lotus wants to show most clearly in website design and especially on the homepage.
Products deploying and handing over processes.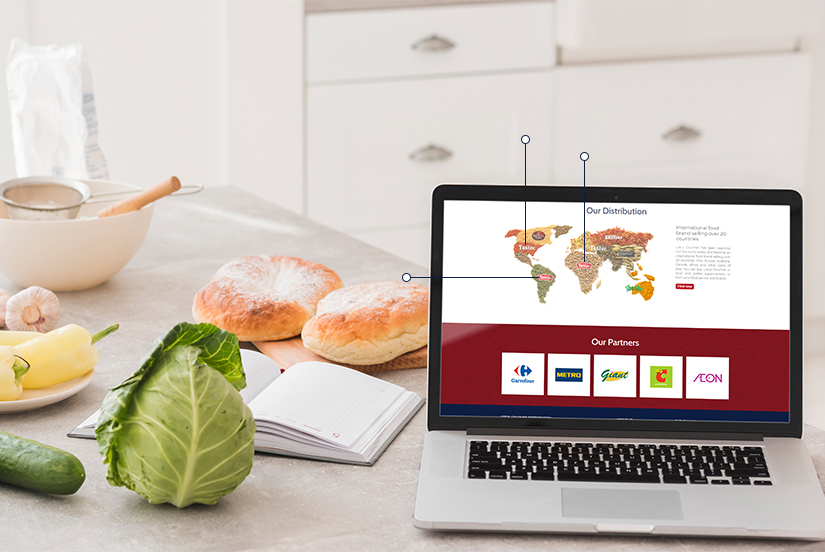 Based on Lotus's requirements, Canh Cam has exchanged and implemented the project with different designs and ideas but still mistakenly stated a common purpose is to mark the brand in their customers' hearts.
After a period of discussion and adjustment, Canh Cam has led to a final web design orientation and is also what Lotus expects.
With fresh, youthful website colors are combined with the colors from the typical product packaging that Lotus offers.
Along with the map showing the products that Lotus distributes in different countries and continents, it proves that the brand is international and builds trust in the hearts of domestic and foreign customers. The map skillfully uses ingredients from the product brand that Lotus Gourmet offers to create novelty, creativity and originality.
How about the result?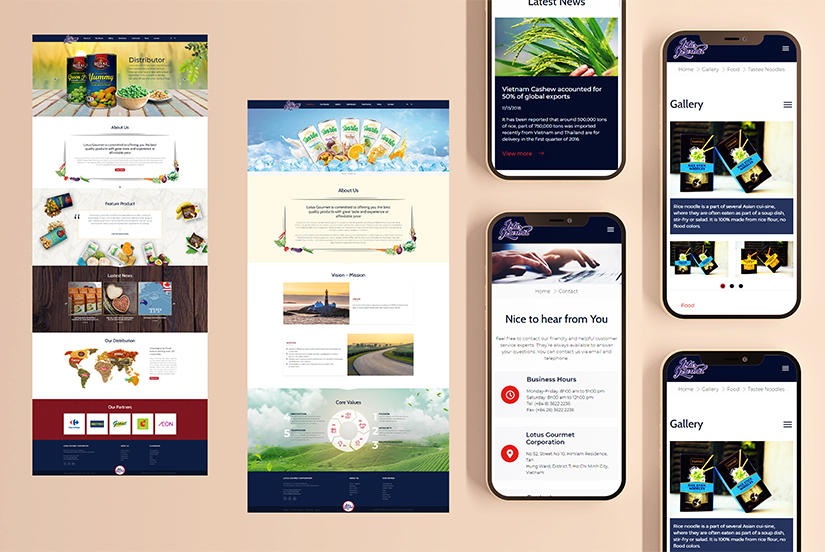 The special highlight of the website is the distribution map, success that impresses strongly in the hearts of potential customers when first learning about Lotus.
Superior traffic and improved customer awareness of Lotus gourmet brand.
Update images, news, content and website administration is also much easier for administrators than other sources. Make it easier for the Lotus team to update images and manage content more conveniently.
Canh Cam - A Web Design Agency in HCMC, we are proud to be able to offer different designs to different brands, as well as to bring great experience to our customers.
Other projects
PROJECT SHARING
Share with us basic requirements to get reasonable price quotation