ANKAMILK - MY CHILDREN, MY LIFE
Combined with the rigorous production and packaging standards of the advanced industry in Spain, Anka was born with the philosophy of "My children, my life" and is ready to accompany children's journey of growing up. Anka products are produced from the world's leading source of fresh milk from Ireland, researched and developed based on the specific nutritional needs for the comprehensive development of Vietnamese children of different ages.
Brand positioning
Website strategy
User interface and effects development (front-end development)
Responsive Design (Website Responsive Design)
About Ankamilk
Anka Milk is a pioneer firm in providing safe and traceable nutritional products of international standards with stable prices to serve Vietnamese people, contributing to improving public health and bringing long-term benefits of quality nutritional products to consumers.
The world's leading nutritional food and ingredients group, Kerry Group, and Ireland's largest dairy group, Glanbia, are two strategic partners, exclusively supplying and developing products for Anka Milk in Vietnam. Kerry Group and Glanbia are currently developing the entire formula and production of Anka Milk powdered milk and Anka Peak Fresh pasteurized fresh milk, two international quality product lines that are highly appreciated by consumers.
Come up with ideas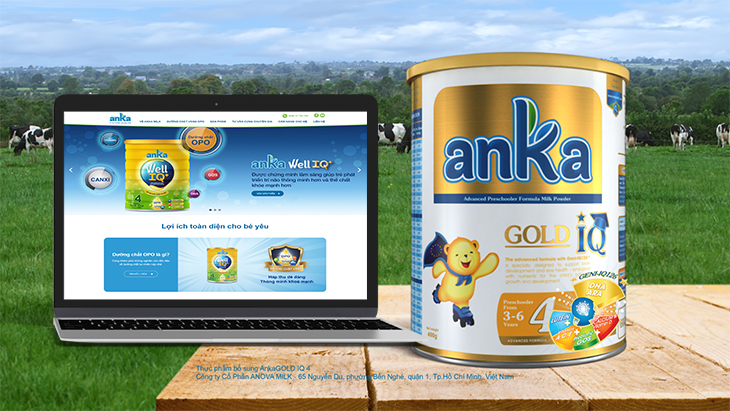 Premium milk for young children comes from the world's leading nutritional food and ingredients group Kerry Group, and Ireland's largest dairy group, Glanbia. Ankamilk dairy brand is positioned in the high-end milk market for children 2 years and older, not only supporting height and weight development but also supporting the development of young children's intelligence.
The requirement for website design must show the outstanding features that Ankamilk brings, helping potential mothers understand the quality that Ankamilk brings when learning information on the website without having to click too much.
IMPLEMENTATION
Most of the important information is considered and distributed on the website homepage, combined with the web layout design to create a sense of harmony. With each load of content, the order of arrangement has also been considered by Canh Cam to bring the lead from the main to the sub, helping customers get the necessary information without being langued and feel interested in learning information. Keep customers on your website longer.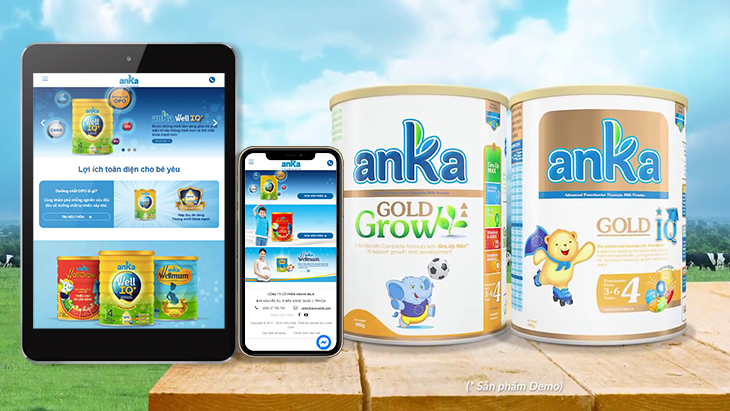 Combining Ankamilk's brand colors with metro blocks is designed softly, bringing a child-friendly feeling but still ensuring a sense of trust when coming to the website and learning information. Not just on the homepage, but also on the pages. Contribute to help Ankamilk mark in the hearts of its customers.
Results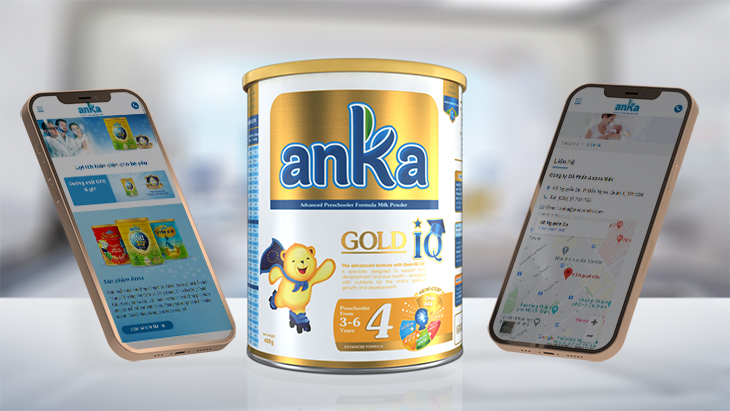 Through the web design project, Canh Cam supported Ankamilk's marketing team dedicatedly in the process of communicating products in the online market, increasing brand recognition to potential customers and also sales.
Canh Cam - Website Design Agency in HCMC, we are proud to be able to offer different designs to different brands, as well as to bring great experience to our customers.
Other projects
PROJECT SHARING
Share with us basic requirements to get reasonable price quotation